he ANC has released a statement that NEC member and president of the ANC Women's League, Bathabile Dlamini tested positive for Covid-19.
The news of her illness comes after a summons was issued for her to appear in the Johannesburg Regional Court on 21 September.
The Director of Public Prosecutions in the Gauteng Local Division in Johannesburg has decided to prosecute Bathabile Dlamini, former minister of social development, for giving false evidence in a 2018 inquiry into her role in the social grant crisis in 2016.
According to the ANC statement, Bathabile Dlamini is in hospital receiving medical attention.
"We wish Comrade Bathabile a speedy recovery and hope that she successfully completes her medical treatment so that she can return to office and continue serving the movement," the statement read.
The statement continues that Bathabile Dlamini's courage and resolve to beat Covid-19 should inspire all of us to stand together against this pandemic.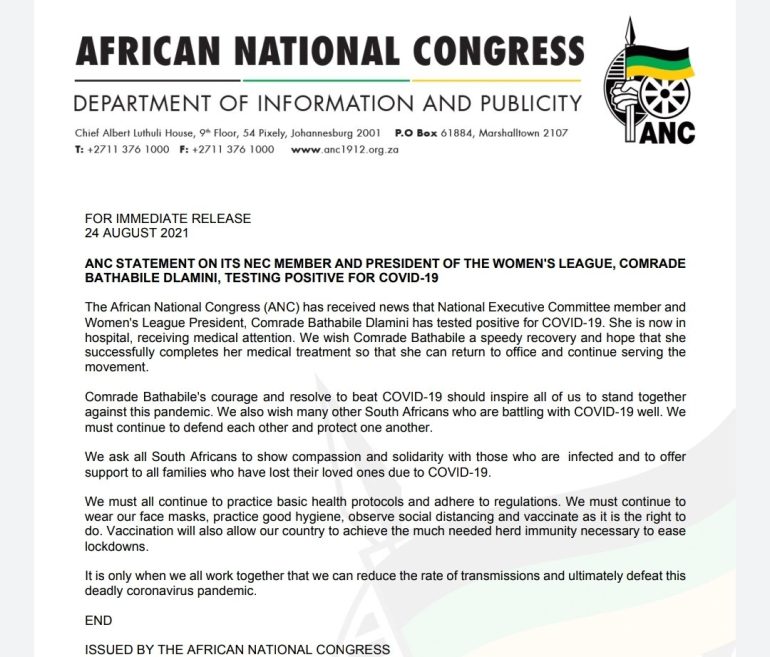 The country has recorded 10,346 new Covid-19 infections and 369 deaths in the past 24 hours.